Acupuncture
A little pinprick with a big effect
Acupuncture is one of the most important focus areas in Traditional Chinese medicine (TCM).
The underlying premise of this Asian therapeutic method takes the entire human being into consideration.
According to TCM, the life energy Qi flows in special channels called meridians. Pain and certain disorders develop due to the blockage of these meridians. Fine needles inserted into the skin stimulate the energy flow in the meridians and help to reduce the blockage and pain in addition to positively influencing other physical disorders.
Scientific studies demonstrate the therapeutic effect of acupuncture because of an increased release of biological messenger substances which reduce pain locally and in the brain. These messenger substances can also stimulate metabolism or have an anti-inflammatory effect.
Acupuncture can not repair what has been destroyed, however it can harmonise pain and disorder.

Dr. von Oelsen offers acupuncture in her practice, in Königstein for the following indications:
Acute and chronic pain, e.g. back or joint pain
Tension or migraine headaches
Psychosomatic disorders, e.g. sleeping problems,
Exhaustion or depression
Allergies such as hay fever and allergic asthma
Addictions such as smoking or eating disorders
In preparation for child birth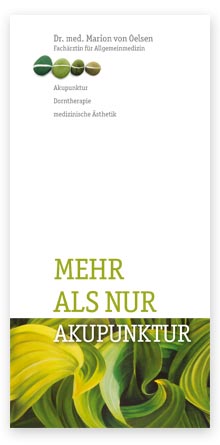 PDF Download